Bringing together four awesome parties for one awesome shirt project.
Who here loves a public transportation outfit that wouldn't dream of taking a left hand turn without alerting the world??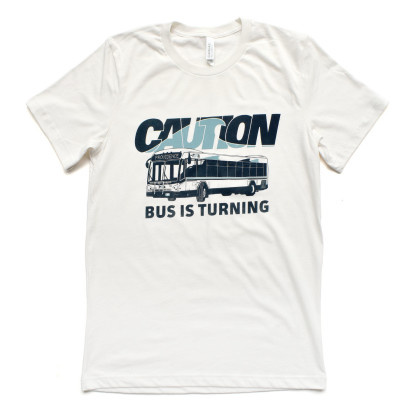 When Dan Freitas of Fun to Wonder Design approached us with this hilarious t-shirt concept, we'd already been talking with RIPTA about collaborating on a shirt design. We showed the brass at Rhode Island's favorite bus service his illustration and they loved it, of course. So we got to work printing Dan's shirts at our hallowed Frog & Toad Studio at the Nicholson File building on the lush banks of the Woonasquatucket River, right here in scenic Providence. I gotta say, they came out pretty great. Dan brought an advance collection of shirts to PVD Fest and blew them out like a candle used as a hood ornament.
One critical component to all our collaborations is identifying an area non-profit that will benefit from the proceeds. The folks at RIPTA felt it was a good idea to find an agency that issues free bus passes to less fortunate Rhode Islanders. I should mention that RIPTA takes nothing from the proceeds of the sale of these shirts, but rather uses their cut to raise charitable funds.
Our discussion brought me back to the Summer of 2020 when I was regularly running day-old bagels from Bagels, Etc. in Barrington, to South Providence, where staff from House of Hope received them and distributed them to folks in need. Getting to watch the House of Hope team in action was pretty inspiring. At the time, the state was at a standstill with COVID, but Johnny from HoH was still out in the neighborhood providing food, toiletries and other necessities to Providence's unhoused populations out of the trunk of his car.

House of Hope's primary mission is to provide housing for our unhoused neighbors, but they do so much more than that. By summer's end they were able to relaunch their Shower to Empower mobile unit, providing basic services such as complimentary showers and haircuts, on-site case management and medical services to those experiencing homelessness. While hanging out with House of Hope's SoProv street team, it was stunning to see the traffic approaching them with diverse needs throughout the course of the day. I couldn't help but log just how many people were hoping to get free bus passes. It was clearly a very high-value item and an important tool for client outreach, springboarding to other services. According to RIPTA, House of Hope purchased 2,000 single rides for distribution to the community last month alone. 2,000 rides!!!
This is truly a special initiative, with a designer, a printer, a bus company and a non-profit coming together to collaborate on a silly t-shirt. And while we know it's unlikely we'll be able to dramatically move the needle for the thousands of Rhode Islanders living below the poverty line, we are hoping we can provide a little dignity, ease of movement, and humanity. All proceeds from the sale of the RIPTA Caution Bus is Turning tees are donated to House of Hope. We'd like to issue a huge thank you to the heroes working at HoH for their kindness, compassion, and tireless efforts to make the lives of Rhode Island's unsheltered community easier.
You can get your RIPTA Caution Bus is Turning shirts here.